Preparing for Use - Editing the Reasons
To document how you spend your time, the TimeTracker provides you with customizable 'reasons' you can use. These reasons form the basis of reports you will use later, so think critically about how you want to summarize your time now to ensure you will get what you need in your reports.
The TimeTracker comes with a list of pre-existing reasons aligned with the ASCA National Model. These reasons are derived from the four components of the Model's Delivery System, which elaborates the types of activities school counselors engage in. The four components of the Delivery System are:
1. ISP - Individual Student Planning. Activities such as personal counseling and postsecondary planning exemplify this category.
2. RS - Responsive Services. Activities such as crisis-oriented counseling and conflict resolution - meeting the immediate needs of students - are included in this category.
3. SGC - School Guidance Curriculum. Activities such as curriculum development and implementation are part of this category.
4. SS - System Support. System Support activities describe the things counselors do to support the school counseling program and school that do not involve direct contact with students. These activities include things such as professional development, test administration, parent meetings, and yes - fair share duties.
Editing the Counseling Visit Reasons to Document Time Spent with Students
1. Click on Edit Visit Reasons in the Setup area.
2. You will now see the dialog box below: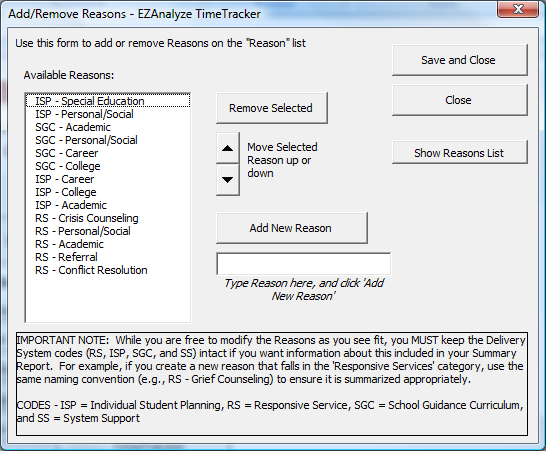 3. Modify the Available Reasons as you see fit.
a. To remove a reason, highlight it and click Remove Selected
b. To add a new reason, type the reason name in the space provided and click Add New Reason
NOTE: While not required, be sure to specify the delivery system code in any reason you create if you would like your time reported by ASCA National Model Delivery System Components later
c. To change the order the Available Reasons are presented in, highlight one you would like to move and use the arrow keys to move it up or down
4. When you have finished, click Save and Close.
Editing the Counselor Reasons to Document Counselor Time
1. Click on Edit Counselor Reasons in the Setup area.
2. You will see a dialog box identical to the one above, except that the Available Reasons are now for documenting your time spent not with students.
3. Follow steps 3 and 4 above.
Editing the Reasons in Bulk
You can edit Reasons (either Counselor Reasons or Visit Reasons) by clicking on the Show Reasons List button. This will show you the sheet this information is housed in, which you can edit as you see fit.